Get Up, Cowboys...
It's Game Day! 

Hey, Cowboys! 
We are excited to host you in America's Friendliest College Town for the thrills and excitement of Big 12 Conference athletics!
We have compiled game day information in one location to make planning for your trip to Stillwater as easy as possible.
When in doubt, give us a shout and we'll do everything possible to answer your questions – 405-743-3697.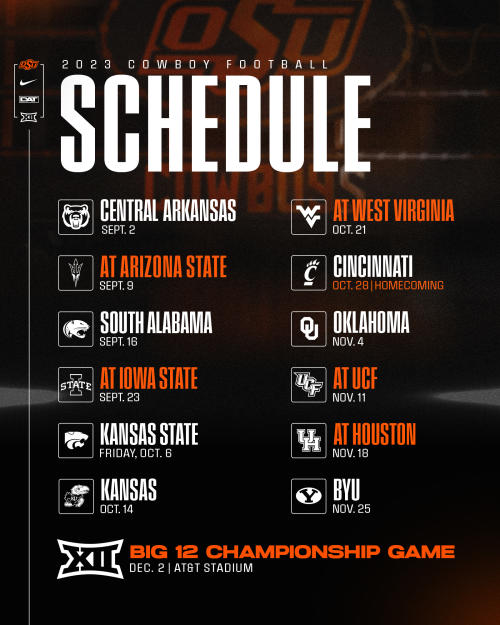 ---
2023 Home Football Schedule
September 2: Central Arkansas - Kickoff Time: 6:00 PM 
September 16: South Alabama - Kickoff Time: 6:00 PM 
October 6: Kansas State - Kickoff Time 6:30 PM 
October 14: Kansas - Kickoff TBA
October 28: Cincinnati (Homecoming) - Kickoff TBA
November 4: Oklahoma - Kickoff TBA
November 25: BYU - Kickoff TBA
Want a chance to win a pair of tickets to a home football game? CLICK HERE to sign up.
2023 Away Football Schedule
September 9: at Arizona State
September 23: at Iowa State
October 21: at West Virginia
November 11: at UCF
November 18: at Houston
Traffic Advisory for 1-35 and 412
Note that there may be a delay in traffic for the following highways.
The ramps for eastbound US-412/Cimarron Turnpike at US-177 are currently closed due to pavement reconstruction. Drivers can access the eastbound Cimarron Turnpike either from I-35 located north of Perry or from US-64 near Morrison. If you are coming from Ponca City, simply take US-177 and then SH-15 east to reach US-64, which will take you westbound back to the turnpike.
There is intermittent narrowing on US-177/Perkins Rd. between Hall of Fame Ave. and Mercury Ave. in Stillwater due to reconstruction.
East and westbound SH-51 will be intermittently opened to two lanes between Vassor Rd. and Meridian Rd. to help with traffic during Oklahoma State home games this season:
Starting from 4 p.m. on Fridays before home games, there will be two open lanes for eastbound traffic on SH-51, while westbound traffic will remain restricted to a single lane.
During and after the game, two open lanes will be available for westbound traffic on SH-51, while eastbound traffic will be reduced to a single lane.
Two hours after the game, both east and westbound traffic on SH-51 will be restricted to a single lane.
Ticket Giveaways
Tickets are going fast for this season, we have you covered with exclusive giveaways for two tickets or season passes! Don't miss out on this opportunity to see your favorite team in action! CLICK HERE to access the giveaways.
Get the Go Pokes App 
This app allows full access for fans to manage their tickets and parking. It also has access to the Stadium drop, that way you can order food from the in-venue concession stands to make ordering food easier! 
Game Day Color Themes
October 6th - OSU vs. Kansas State: Blackout Game 
November 4th - OSU vs. Oklahoma: Wear Orange
October 28th  - OSU vs. Cincinnati: Wear Orange 
Photos by: Comanche Spirit Photography 


---
Pre-Game Concert -RodneyAtkin's "College Concert Series"
Rodney Atkins will be the artist performing on October 6th from 4 PM to 5:30 PM where the Hall of Fame Block Party normally does, directly north of BPS and South of Sherman Smith.
It is a FREE Event 

Stadium Policies
A full guide to Boone Pickens Stadium policies can be found HERE, and below are some key ones for fans to be aware of before arriving.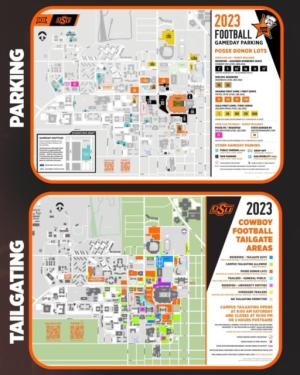 Parking Lots
POSSE parking lots will open beginning at 8 a.m. on Football Game days, regardless of kick-off time. For more parking information, CLICK HERE. For additional assistance with traffic and navigation, the Cowboys have partnered with Waze to help navigate fans directly to their parking lots at Oklahoma State Athletics venues.
OSU Alumni Association Parking 
The OSU Alumni Association has secured parking spots in the Student Union garage, and passes are on sale now. Members can get theirs for $399/season, and nonmembers can purchase a pass for $499/season. Passes must be purchased by August 24. For the link to purchase, CLICK HERE.
Park and Ride
Catch the shuttle at 7th and Lewis in Downtown Stillwater for free, round-trip service to Boone Pickens Stadium starting 3 hours before the game and continuing until 30 minutes after kick-off. Shuttles will resume in the 3rd quarter and continue for a minimum of 30 minutes postgame - or until lines are gone. 
Parking for a Cause
Support local causes and organizations when you park at the following locations around Stillwater.
Boy Scout Troop 828, Duck Street between Maple and Elm by Eskimo Joe's - $40 per spot with tailgating available, contact Paul Manisian at 405-742-7058 for advanced tailgate parking - proceeds benefit Troop 828
RCB Bank, 324 S. Duck St. - $20 per game: Proceeds benefit Turning Point Ranch.
Salem Lutheran Church, 101 S. Duck - prices vary by game - proceeds benefit the youth group, and proceeds go to church funds.
Simmons Bank, 308 S. Main - suggested donation of $10-$20 - benefitting United Way of Payne County.

Saturday, September 2nd

3rd & Main from 2:00 p.m. – 6:00 p.m.

Saturday, September 16th

3rd & Main from 2:00 p.m. – 6:00 p.m.
Sprout's from 8:00 a.m. – 11:00 a.m.  (Parent's Day Events)

SMC @ 6th Street from 2:00 p.m. – 6:00 p.m.
Friday, October 6th

3rd & Main from 4:00 p.m. – 6:30 p.m.

Saturday, October 14th

3rd & Main beginning 4 hours before kickoff

Friday, October 27th

Sprouts from 5:00 p.m. – 10:00 p.m. (walkaround)

Saturday, October 28th

3rd & Main beginning 2 hours before the Homecoming Parade
3rd & Main beginning 4 hours before kickoff
Sprout's beginning 3 hours before kickoff
SMC @ 6th Street from 2:00 p.m. – 6:00 p.m.

Saturday, November 4th

3rd & Main beginning 4 hours before kickoff
Sprouts beginning 3 hours before kickoff
SMC @ 6th Street from 2:00 p.m. – 6:00 p.m.

Saturday, November 25th

3rd & Main beginning 4 hours before kickoff

Stillwater Church of Christ, 821 N. Duck St. - $20 per game - proceeds benefit the youth group and missions.
Stillwater YMCA, 204 S. Duck St. - First Come First Serve - proceeds go toward student scholarship recipients.
University Heights Baptist Church, 323 S. Knoblock - $20 per game - proceeds benefit Boy Scout Troop 828 and the University Heights youth group
RV Parking Options
We have campgrounds and parks available to RVs most of the year. Reservations are strongly encouraged and can be made with each campground/RV park. CLICK HERE for more information.
*NEW! Cowboy Camp Luxury RV Park
Located at 522 North Perkins Road, the camp is within walking distance of Boone Pickens Stadium.
Call Cowboy Camp Luxury RV Park to book our space now –  405-780-3092!

Contact Cristy or Nicole at Visit Stillwater if you have any questions – 405-743-3697.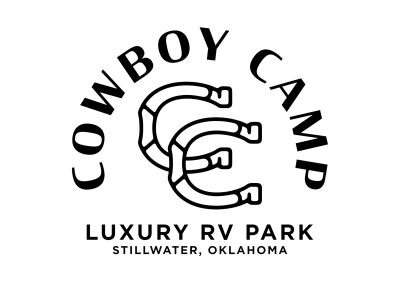 Tumbleweed RV Parking and Concert Dates
The Tumbleweed Dancehall and Concert Venue is home to not only Calf Fry, but many other red dirt artists throughout the fall. They have full or partial hookups and concerts every weekend starting in August! Come enjoy your weekend with football and live music! For more information on reserving a spot in the RV parking or snagging a concert ticket CLICK HERE.
Home Game Concert Dates and Times 
Trey Lewis Live - October 7th at 8:00 p.m.
No Justice Live - October 14th at 8:00 p.m.
Bo Phillips Live - October 28th at 8:00 p.m.
The Great Divide Live - November 3rd at 8:00 p.m.

Tickets
The ticket offices around Boone Pickens Stadium are open 4 hours to kick time or at 8 a.m. for 11 a.m. kick-off. Except for the suites, all tickets are mobile. Fans have the option of using their mobile devices to present tickets for scanning at the entry gates or printing their tickets at home and presenting that page for scanning at the entry gates. Fans can renew or purchase their season tickets beginning February 7 at okstate.com/tickets or by calling 877-255-4678. Tickets have also become digital.
Tailgating
To ensure a safe and family-friendly atmosphere, tailgating is limited to designated areas on campus. Tailgate spots can be claimed beginning at noon on Friday, regardless of kick-off. Please view Oklahoma State University's tailgating maps to view available and prohibited areas for tailgating along with tailgating guidelines. For more information on tailgating, CLICK HERE.
Elevate the tailgating experience with packages from REVELxp. From a simple tent with a table and chairs to an elaborate large-scale gathering, they can cover it all. To book your tailgate, CLICK HERE.
Cowboy Football Player "Shersey" Now Available!
Get ready to show off your love for America's Brightest Orange with a personalized "Shersey"! Featuring your favorite player's number, this is the perfect way to support the team. CLICK HERE to order yours today!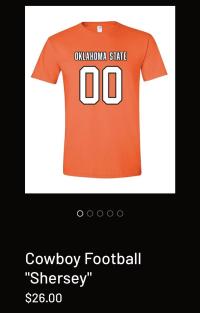 Cowboy Apparel
Get your game day gear in time for the upcoming season and cheer on your favorite cowboys and cowgirls in America's Brightest Orange! CLICK HERE to shop! 
Original Eskimo Joe's T-shirts and NEW Pistol Pete T-shirts
Eskimo Joes is certainly a place to stop for great food unique t-shirts and other accessories! CLICK HERE to shop!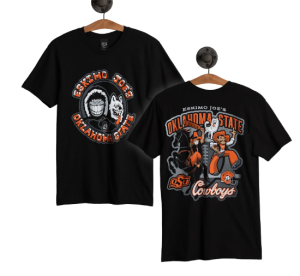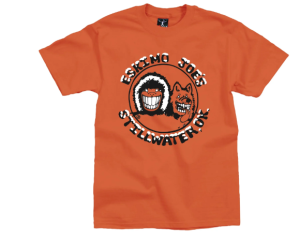 Orange Glow
See the glow of America's Brightest Orange come from inside Boone Pickens Stadium on Friday evenings before home football games.
Hall of Fame Block Party
Hall of Fame Avenue between Knoblock Street and Washington Street is closed to vehicular traffic on gameday. The Hall of Fame Block Party opens 3 hours before kick-off. 
Game 1: Featuring DJ Hypeman 501, photos with Bullet & BB 
Game 2: Featuring DJ Navi, photos with Bullet & BB, Cowgirl Soccer Meet and Greet 
Game 3: Featuring Rodney Atkins 
Game 4: Featuring DJ Hype Man 501
Game 5: Featuring DJ Navi, Cowboy Car Show, Airforce Flyover 
Game 6: Featuring Dustin Lynch, Bullet & BB, Airforce Flyover 
Game 7: Senior Day, DJ Navi, Salute to Service 
The Walk
Join the Cowboys as they make the traditional pre-game walk along Hester Street from the Atherton Hotel in the OSU Student Union to Boone Pickens Stadium. The Walk begins 2 hours before kick-off. 
Postgame Traffic
After a fun day in Stillwater, we hope you have a safe drive home. CLICK HERE to download the Cowboy Football postgame traffic flow map.
Helpful Hints to Spend More on Gameday Gear and Less on Parking Violations
Parking is prohibited in certain specified places.
No person shall stop, stand, or park a vehicle, except when necessary to avoid a conflict with other traffic or in compliance with law or ordinance or the directions of a police officer or traffic control device, in any of the following places:
Within an intersection

Within 15 feet of a fire hydrant except in a parking space officially marked

On a crosswalk

​Within 20 feet of a crosswalk at an intersection

Within 30 feet upon the approach to any flashing beacon, stop sign, or traffic-control signal located at the side of a roadway

On a sidewalk

In front of a public or private driveway

In or upon a private driveway of another, without permission of the owner, lessee, or person in charge thereof

Upon the private property of another, other than a private driveway, without permission of the owner, lessee, or person in charge thereof, except where such private property is provided as a parking area and the general use of said property is not restricted by signs or proper markings to allow parking by a specific class of individuals only, such as customers of a particular business establishment, residents of a certain apartment house, etc.

At any place where official signs prohibit stopping, standing, or parking

Stadium Entry
Gates Open
Suite and Club ticket holders may enter the stadium two hours before kick-off.  All general fans may enter the stadium 90 minutes before kick-off.  
Suite ticket holders should enter the stadium through the stair towers and club seat ticket holders should enter the stadium through gates S6 and N6. Temporary gate locations will be used for the club seat ticket holders (W2 and W13). These locations will open 2 hours before kick-off and will return to regular gate use when the general gates are opened.
Clear Bag Policy/Bag Screening
Small clutch purses no larger than 4.5"x 6.5"and clear bags 12"x 6"x12" are permitted. Fans are limited to one bag per person with a small clutch purse. All allowable items will be checked before entering the stadium. Please leave all unnecessary items in your vehicle or at home. For more information on OSU's clear bag policy, CLICK HERE.
Hydration Stations and Cool Zones in the Stadium 
Hydration stations are located in the stadium and are free water bottle-filling locations to stay cool while enjoying the game!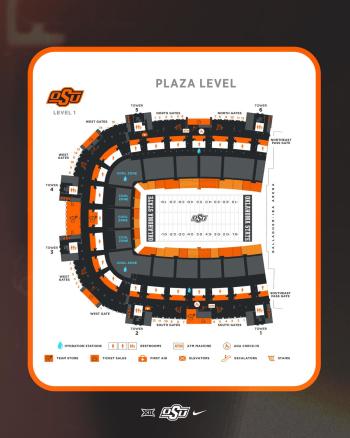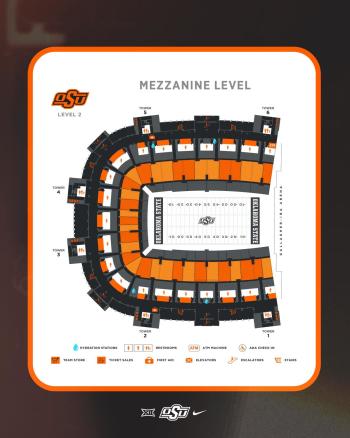 Food and Beverages 
Fans are permitted to bring unopened clear plastic water bottles into Boone Pickens Stadium. Free water refilling stations are located throughout the concourse. No other outside food or beverages are allowed to be brought inside the stadium from the outside (including food or beverages purchased in the Hall of Fame Block Party area). Concession stands are located throughout the stadium and offer a variety of food and beverages.
Chair Backs and Seat Cushions
Chair backs are not permitted to be brought into the stadium. Seat cushions are permitted as long as they are 16" wide or smaller. No back or metal frame is permitted.
Cowboy Stadium Seats (chairback rentals)
Cowboy Stadium Seating is reserved through IMG College Seating. Please call 1-877-494-6001 or visit www.cowboyseats.com for additional information.
Fan Assistance Booth
The Fan Assistance Booths are located on the ground level, in the middle of the stadium, on the north and south sides. These booths will be open two (2) hours before kick-off through the end of the game. Fans may visit these booths for ticket information, lost and found, and game day assistance. 
More Game Day Activities
OSU Alumni Association's Cowboy Corral Pregame Events
Alumni will want to start their gameday at the ConocoPhillips OSU Alumni Center. Enjoy a free, family-friendly pep rally before every Saturday home game (excludes 11 a.m. kick-offs). Take pictures with Bullet, and grab a snack or beverage before the game. Click here for additional details.
Joe State Pre-Game Tailgate presented by Eskimo Joe's
Celebrate the fun of Cowboy football with family and friends at the Joe State Tailgate. Food service and a full bar are available, and all ages are welcome.
1890 Original Craft Beer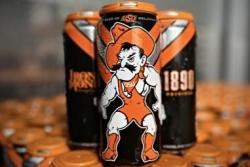 OSU Athletics and its multimedia rightsholder, Learfield's Cowboy Sports Properties, have partnered with Stillwater's own Iron Monk Brewing Company to make Iron Monk the Official Craft Beer of OSU. A new co-branded craft beer called 1890 Original is now available for purchase, and will be offered at OSU athletics events and at OSU Alumni Association pregame events at the ConocoPhillips OSU Alumni Center.