Stillwater Regional Airport
When you need to fly, #FlySWO! With direct daily flights to Dallas, free parking, and faster baggage claims, enjoy a stress-free flying experience at the Stillwater Regional Airport! 
Click here to book your flight today! 
2022 Stats
Serviced 54,608 passengers in or out on American Airlines

41% increase in passenger growth from 2021

Customers include:

OSU students, faculty, staff, alumni, fans, and visitors

Business travelers

Event coordinators, speakers, and attendees

SWO averages more than 80,000 aircraft operations annually and is ranked as the fourth busiest airport in Oklahoma

The primary runway and parking apron routinely handle charter aircraft as large as the Boeing 737-900

SWO has recently purchased a new Aircraft Rescue Fire Fighting (ARFF) truck, upgraded Snow and Ice Removal Equipment, and upgraded their fuel farm

In November 2022, SWO introduced an "Upgraded Experience" with larger aircraft offering more seats, first/business class, and in-flight wifi/entertainment. SWO also partnered with Visit Stillwater to offer a premium coffee bar, a free perk for all passengers that FlySWO.

SWO sold a record-breaking 532,000 gallons of aviation fuel in 2022

SWO is completing a multi-year aircraft parking apron expansion and airfield electrical upgrade project

SWO is currently in the siting and design phase of planning for a new commercial terminal and new air traffic control tower

In April of 2022, SWO completed its annual Federal Aviation Administration (FAA) Safety Inspection and passed with zero discrepancies, the highest rating a commercial airport can receive. "To have a perfect inspection is rare with less than 15% of the airports nationwide receiving this outcome."

The Flying Aggies are a student flying club at Oklahoma State University in Stillwater. The purpose of the club is to encourage interest in aviation, to provide safe and economical flying for its members, and to advance the knowledge of the membership in aeronautical and related subjects.
According to a 2017 Economic Impact Study conducted by the Oklahoma Aeronautics Commission, Stillwater's airport has a local economic impact of

more than $70 million annually; and,

either directly or indirectly contributes to 663 jobs in the community.
Stillwater Regional Airport Expands Services and Accommodations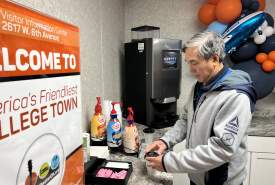 Stillwater Regional Airport Expands Services and Accommodations
Stillwater Regional Airport Scores Perfect FAA Inspection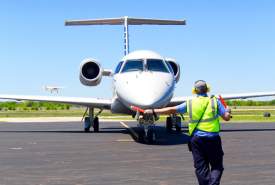 Stillwater Regional Airport Scores Perfect FAA Inspection