America's Friendliest GeoTour!
Known as America's Friendliest College Town, Stillwater is home to Oklahoma State University, Eskimo Joe's, and a long list of unique restaurants and retail shops. Have fun exploring Stillwater on our GeoTour!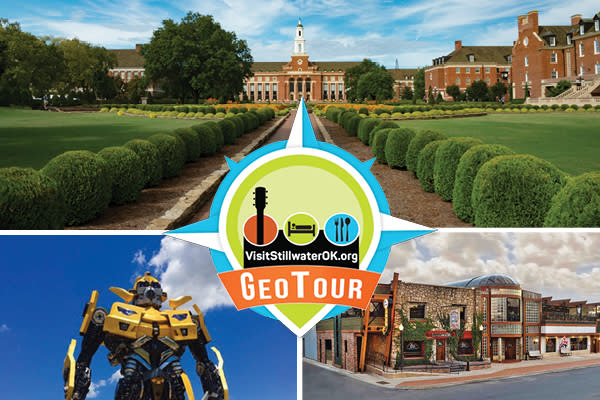 Geocaching is a type of global treasure hunt where people search for caches or hidden stashes of objects. Geocaching can also be described as a series of hide-and-seek games, where hiders provide online clues for seekers. Seekers use global positioning system (GPS) devices to find hidden containers called Geocaches.
Geocaching is an outdoor recreational activity that is great for a family or individual who is looking to explore the community. Simply create a Geocaching account and download the app to get started. All caches are located in accessible public places, so you can participate at any time.
Download the passport to play!
How to Play:
Go to the GeoTour website and sign up for an account. 
Download the Geocaching app to your smartphone or load coordinates to your GPS device. 
Search by GeoTours and enter code GT4A4.
Find a Visit Stillwater GeoTour geocache and record the code word found on the cache log in the appropriate box on the passport. 
Sign the log and put the cache back where you found it. 
Record your find on Geocaching.com 
Cache, Play, Shop & Stay, until you have the required number of points to win a commemorative GeoTour medallion and/or trackable tag.
Earn 20 points on the Visit Stillwater Tour to earn a GeoTour medallion.

         
 
Earn 10 points on the Walking on the Wild Side Trail to earn an official Geocaching trackable tag. 

         
 
To receive your prize(s), complete the survey on the back of this passport, collect all receipts, and drop them off, mail-in them, or email them to Visit Stillwater. 
We will verify your passport and mail your prize(s) to the address provided. 

Email to:
Nicole@VisitStillwater.org

Drop off or mail in: 
Visit Stillwater 
2617 W. 6th Ave.  
Stillwater, OK 74074