Excitement is in the air as America's Friendliest College Town prepares to welcome OSU alumni and fans to celebrate a special tradition: Homecoming! This year's festivities will commemorate the 100th Anniversary of OSU's Homecoming with a week full of favorite events and some exciting new additions.
Kick-off Homecoming week on Sunday as the fountain turns orange in front of the Edmon Low Library. Watch this tradition unfold, then walk through the signs on the library lawn created by Greek houses, student organizations, and residential halls.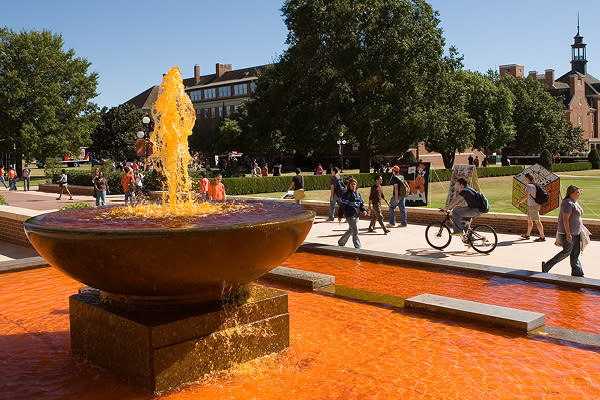 On Tuesday, take the kids to the Payne County Expo Center for fun and games at the Harvest Carnival, and don't miss the delicious Chili Cook-off while you're there! The kid-friendly fun continues on Wednesday with the Hester Street Painting, where you can leave encouraging messages for the OSU football team to read as they travel to Boone Pickens Stadium before the game during the Spirit Walk.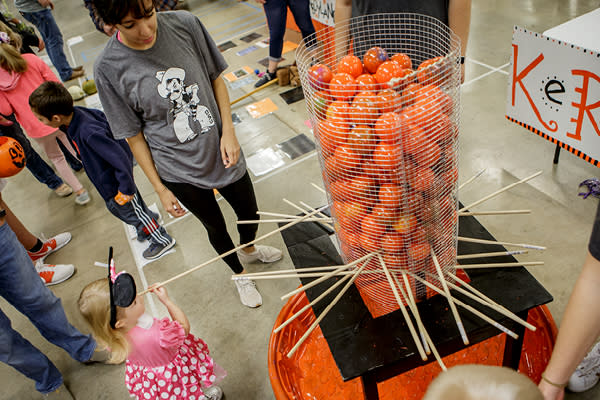 Friday marks one of the biggest traditions of OSU Homecoming, which is the Walkaround through the Greek neighborhoods to see the amazing house decorations. During this exciting evening, you can also attend the return of the Homecoming Pep Rally, called Cowboy Celebration, on the west side of the Student Union. Don't miss the Homecoming and Hoops - Remix with both the men's and women's basketball teams, which will be held outside at the Beta Theta Pi fraternity house.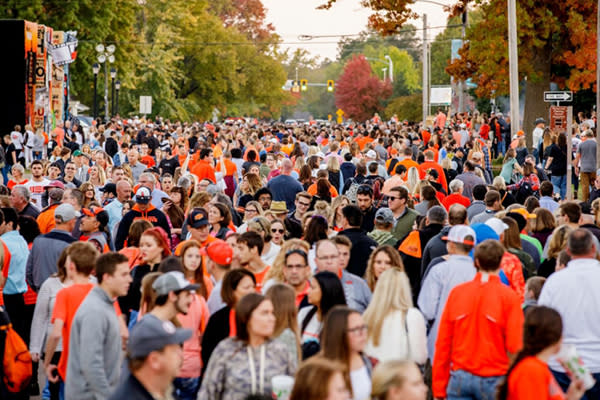 Game-day Saturday begins with the fan-favorite Sea of Orange Parade beginning in Downtown Stillwater on Main Street from 9th to Hall of Fame Avenue. Wave at Pistol Pete, Bullet, the Cowboy Marching Band, OSU Spirit Squads, and other great entries and floats. Enjoy your afternoon in Stillwater, then get ready to cheer on the Cowboys under the lights with kick-off at 6 pm in Boone Pickens Stadium as they play Big XII Conference rival, Kansas Jayhawks, for the big game.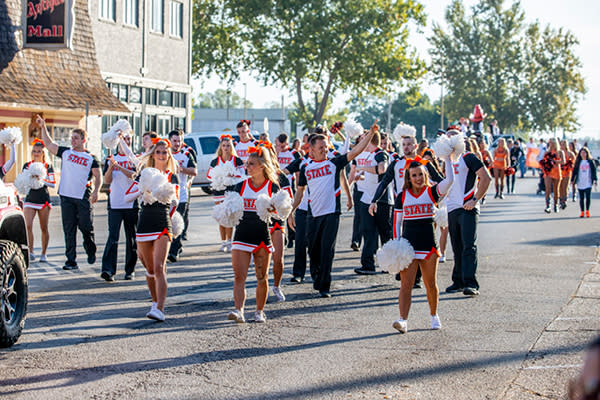 For more information on the Homecoming events, please visit https://www.visitstillwater.org/osu-homecoming/. You can also find listings of great family-friendly events and attractions available during Homecoming week, as well as exciting nightlife and live music performances for adults.
We are excited to celebrate the Centennial Homecoming Celebration with the loyal and true Cowboy fans on October 24-30! Go Pokes!