Family Events during Homecoming Week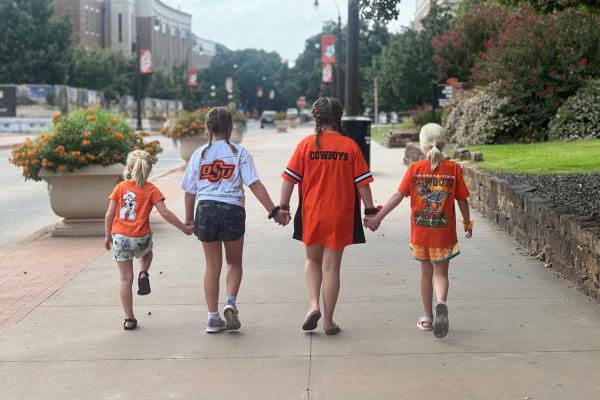 OSU Homecoming week is full of great family-friendly activities to enjoy! Spend the week in Stillwater before the football game. Check out the list of events and attractions below for some great things to do with kids in America's Friendliest College Town!
Pumpkin Patch at Highland Park United Methodist Church
offered daily
Pumpkin Patch at Lost Creek Safari
offered Wednesday-Sunday
Cowgirl Soccer vs. Iowa State
October 16 at 1:00 pm
Cowgirl Softball vs. Seminole State
October 18 at 5:00 pm
OSU Harvest Carnival
October 18 at 6:00 - 8:00 pm
OSU Hester Street Painting
October 18 from 5:00 - 7:00 pm
Fall Outdoor Storytime at Stillwater Public Library
October 19 & 20 at 9:30 am
October 19, All Day
Cowgirl Soccer vs. West Virginia
October 20 at 7:00 pm
October 20 from 5:00 - 9:00 pm
Fly-Day Food Trucks
October 21 from 11:00 am - 2:00 pm
Joe State Homecoming Tailgate
October 21 after Walkaround
OSU Sea of Orange Parade
October 22 at 9:00 am (or 8:00 am with a 11:00 kick-off)
---
You may also want to explore these area attractions.