(STILLWATER, Oklahoma / June 5, 2018) - Town & Gown presents the fifth production of its 67th season, The Addams Family, a 'spirited' musical about everyone's favorite ghoulish family. The Broadway musical is based on the book by Marshall Brickman and Rick Elise, with music and lyrics by Andrew Lippa and features the same characters as in the TV/movie adaptations.
This stage version of The Addams Family is all about a clash of cultures, the story of Wednesday Addams, the original 'princess of darkness,' and daughter of Gomez and Morticia Addams. Now 18 years old, the snarky Wednesday has fallen in love with Lucas Beineke, a 'normal' young man from Ohio, whom she met while hunting with a crossbow in Central Park in New York City.
"The play unfolds over the course of an eventful evening when Wednesday invites Lucas and his equally normal parents to dinner at the Addams family mansion," says director Renae Perry, a graduate student of music at the University of Texas at Arlington, and a Town & Gown regular.
"The Addams Family characters are all older than what you might be used to seeing on screen, yet the writers have managed to capture the very same humor and spirit, well contrasted with the utter normalness of the Beineke family. The play is an all-out comedy with loads of delightful kookiness and goofiness. The chorus, for example, is made up of Addams Family ancestors. Essentially, zombies sing and dance," adds Renae, with a laugh.  This is the Stillwater native's first attempt at directing a play. "I'm really enjoying donning the director's hat. It's a musical so I've had to rely a lot on the music director, Shelby Stroud, and the choreographer, Kayla Hurd. Kayla also stars as protagonist Wednesday."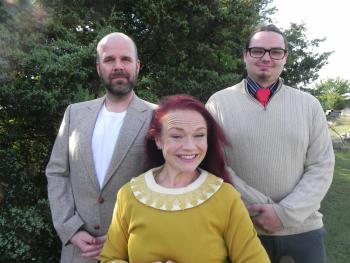 The Addams Family features a cast of over 20 characters. Ryan Gonzales plays charming Gomez, the Addams Family patriarch, who finds himself in a bit of a pickle, facing every father's worst nightmare – an unsuitable groom for his beloved daughter. Morticia, the family matriarch (essayed by Bailey Bovenschen), meanwhile, is as playfully manipulative as ever. Portly, bald Uncle Fester (Franky Toomey-Kukuk), eccentric Grandma Addams (Dawn Behrens) and family butler Lurch (Kevin Gerfen), provide loads of comic relief throughout the show, while Pugsley Addams (Caroline Harrist), now an irascible teenager, drives both the Addams and Beineke families up the wall with his antics. The main cast is rounded up by wholesome Lucas Beineke (Ben Allen), his father, Mal (John Mark Day), who disapproves of the Addams family and his mom, Alice (Andrea Peters), who is a sweet person but has a lot of sensual depth. Lauren Reece rounds up the cast as The Moon, whom Uncle Fester falls in love with.
The Addams Family is a musical comedy, recommended for ages 13 and older. It will run for eight performances, from June 13 - 17 and June 20 -24, with Thursday, Friday and Saturday performances beginning at 7:30 p.m. and Sunday matinees beginning at 2:30 p.m. Tickets go on sale June 11, 11 a.m. and can be reserved by calling the box office at (405) 372 9122 or purchasing online at www.townandgown.org. Ticket prices are Adult: $14; Students: $12 and Seniors: $12 (available for Sunday matinees only). For more information about The Addams Family, visit www.townandgown.org or find us on Facebook.