No need to head out of town to celebrate the famous patron saint of Ireland with food, drink and green festivity.  Stillwater has your need for Irish flare covered with our top March 17th picks:
1. I like them, Sam-I-am!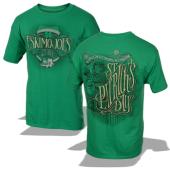 Start your St. Patty's day off with green eggs and ham- Eskimo Joe's style.  They will be serving Green Eggs & Ham from 8-10am.  Breakfast will include green scrambled eggs, flat-top fried ham, fresh baked biscuits and jam as well as biscuits and gravy or bacon, egg and cheese fries. Eskimo Joe's will also be serving up green beer all day and opening with FREE green Bud Light keg at 8am! Don't leave without an Irish tee shirt/memento--Eskimo Joe and Buffy look good in green!
2. Iron Monk Meets Irish Cuisine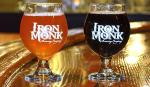 Iron Monk Brewing Company will be opening at 11am on St. Patty's Day with PurdyQ Meats & Treats serving a traditional Irish fare with Oklahoma flare. Get your green-inspired grub on with choices such as Shepard's Pie, Reuben with Smoke Corned Beef, Potato Cakes, Irish Stew and Milk Stout Chocolate Cheesecake. The Stillwater Pipe Band will be live at Iron Monk Brewing Company, performing at 5:30 pm.
3. St. Patty's Day in a Speakeasy
According to Cover 2, a local musical duo, they will be turning Gatsby into an Irish Pub for the evening as they perform live "with a little traditional music, crowd favorites, and lots of tunes for you to sing along to while holding an adult beverage." The show will begin at 7pm on St. Patrick's Day.