Creating memories in any destination is all about discovering and embracing new experiences with friends and family. Whether you're a long-time resident or new visitor, we hope our Stillwater Living Magazine series inspires Stillwater memory-making all year!
You've heard the phrase, "been there, done that, bought the t-shirt."
Stillwater is home to some of the most iconic t-shirts in America.  A t-shirt is more than cotton and print, it's the essence of the experience behind a brand, it's a label for our community, and it's a stamp in time.
You wouldn't travel anywhere without picking up a t-shirt - or seven - along the way, so why should your local tourism stops be any different? With the back-to-school frenzy fast upon us, plan a weekend t-shirt crawl around our favorite stops and outfit the kids for class this year. Wear your shirts as you travel the world and meet new people in new places.  Spread the word – Stillwater is America's Friendliest College Town… and don't we look fabulous?
Here's a glimpse at the threads you can't live without:
Eskimo Joes West Elm Ave.
Stan Clark started his empire in 1975 with business partner and buddy Steve File. The trademark Eskimo Joe and his dog Buffy was developed by an OSU commercial arts major and VW bus-driving, Bill Thompson to make a statement: "We have the coldest beer in town!" Joe's big smile has made its way around the world with many thousands of t-shirts bearing his face since the bar-turned-restaurant's humble beginnings.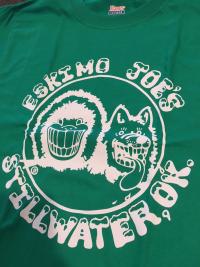 Eskimo Joe's has sold millions of t-shirts over the years. Once the logo was designed and launched on a t-shirt, they sat on it about 6 months before the decision was made to add "Stillwater, OK" to the bottom. He believes Stillwater is a fun place to be and his hope is that the same is true for a guest's experience in his establishment.
The Original Hideaway Pizza South Knoblock St.
Named after the Big Kahuna himself, The Hideaway's mascot, displayed proudly on the front of their signature tie-dye, is a tribute to the late Richard Dermer who bought the landmark pizza joint in 1957. The Hideaway t-shirts continue to be tie-dyed locally by a former employee. Some shirts feature the classic VW bugs, which the delivery fleet decorated and paraded around Stillwater for decades.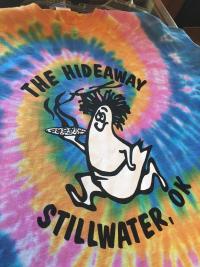 The restaurant first opened its doors on 3rd Street in 1955 and Dermer was a member of the original staff, serving as a delivery boy while attending high school. Over the next two years, Dermer, as an OSU sophomore, decided to buy out the joint he had come to love and began to build an establishment that's come to represent great pizza, goofy shirts, the "glory days," and… Kites. Yep, the Big Kahuna discovered a love for kite flying alongside his wife, Marti, and has included this aspect of his life throughout his restaurant as the décor focal point. In 1980, the move to its current location on Knoblock was made home for those who crave pizza on game days and enjoy a view of the old fire station.
Chris' University Spirit South Knoblock St.
Chris Norris first printed the iconic "style no. 153" or the OSU Full-Arch t-shirt 30 years ago from his original shop. This style has survived the store's expansion and growth to service game day and spirit gear for the entire community.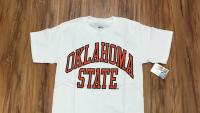 Founded in 1986 and originally called the Balfour House, what's today a Knoblock staple, only housed Greek gifts and screen-printed shirts. In fact, patrons would browse design options and Chris would print your selection in-store. As decades passed and he moved locations to fit a larger demand for new merchandise, OSU fans kept coming back for that arch.
Chris is proud his design has become so familiar at the game day scene for the "greatest school in America" each Fall.
The shirt is available in four main colors, orange, black, gray and white with the unmistakable large lettering in off-set colors from the same palette.
Aspen Coffee Company Locations on West 7th Ave., Perkins Rd., and Western Ave.
Oklahoma's original craft coffee roaster has given Stillwater an appreciation for really good joe.  The logo's main elements are a globe and the coffee beans, to say that,  "even though we are a local company, we are connected to regions and coffee growers around the world."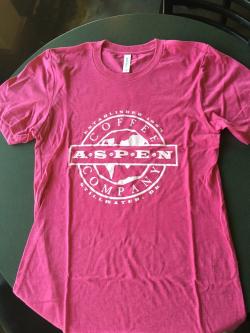 When asked how their brand represents our community, Lyda expressed that "Because Aspen Coffee really is Stillwater's coffee and our customers represent every possible walk of life, I don't think there is a better snapshot of the whole Stillwater community than the folks that come in Aspen Coffee every day. We see everyone, it's awesome!  I think Stillwater is unique in that it is grounded in some hometown tradition but at the same time OSU gives it a connection with the rest of the country and world. Students come in from all over, become part of our community and part of our life; then graduates take a little of Stillwater and Aspen Coffee culture (and t-shirt) with them."
Aspen Coffee Company is proud of their Stillwater roots and that the community wants to make a connection back to what's important to its founders.  
Granny's Kitchen South Main St.
Everyone's favorite breakfast diner produces a line of shirts featuring a cartoon Granny – Stillwater's own matriarch. There are currently 18 t-shirt designs with virtually every local team sport and Granny's favorite activities – she's always our number one cheerleader.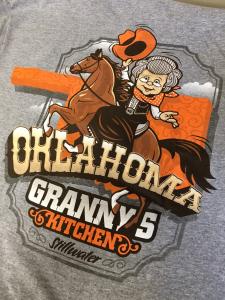 With roots that tie back to what was an old favorite first-meal stop, Mom's Country Kitchen on Main Street, the buck couldn't have been passed to better hands. Owner, Mohammed Mahmoud, takes extreme pride in his customer service and sunny disposition – we've never sat down for a meal without being personally greeted and made to feel important. It's no wonder the character he's chosen to represent his brand is so well connected to the town's vibe – he obviously gets it. Many people here value family, community, and obviously their Oklahoma State Cowboys. Granny's portrayal is the exact personification of these ideals and made to fit the easy-going personality most of us encompass.
Once you enter the restaurant, each shirt is proudly displayed as wall art to browse while you enjoy literally the most delicious cinnamon roll EVER. Seriously. Do it.
Go ahead and ask Mohammed which Granny's t-shirt he loves the most when he stops by your table to ensure that you're not leaving hungry.
Oklamerica sold at Flynnagin's Footwear on Perkins Rd.
Still just hot of the press, the first Oklamerica t-shirt was printed in the spring of 2015. Its popularity has been spurred by the "resurgence in state pride in the last several years," believes owner, Clay Billman.  Oklamerica tees have now been spotted in Iceland, South Africa, Vietnam, Norway, Beijing and Israel.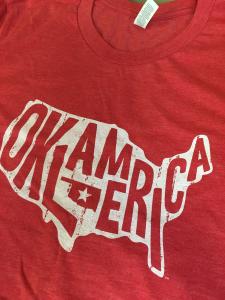 The shape of our great state lends itself well to the shirt's design, which cleverly houses a text-within-image approach. Their tagline, "The brand we belong to is grand" is an obvious play on the state song and makes for those with state pride to feel like they've made a good purchase.
With another nod to local branding greats, Billman claims "anyone who prints a t-shirt from the state of Oklahoma owes Stan Clark a debt of gratitude. He created a cottage industry here in Stillwater, and 4 decades later it's still the model ... not to mention the vibe that Hideaway Pizza has maintained for half a century. It's flattering to be mentioned in the same breath with those iconic companies. And yes, this is a shameless pitch for free cheese fries and pizza." – Hey Clay, we are right behind you.
Stillwater Summit Co. West 7th Ave.
Summit's t-shirts include a tongue-in-cheek nod to outdoorsmen everywhere by listing Stillwater's elevation peak, a whopping 986 feet. With an emphasis on the quality equipment sold in store, the t-shirts are no exception to the high standards set by owner Brady Moore.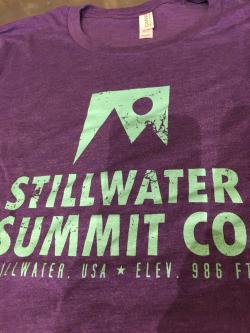 Be sure to snap a picture in your Stillwater Summit t-shirt on your next outdoor adventure and they'll add it to the infamous wall that leads to the second story of downtown space.
Chillwater Apparel  South Main St.
One of Stillwater's newer t-shirt icons, Chillwater launched its designs in 2014. Their brand is a play on words representing Stillwater nationwide. Initially only sold online and through booth sales, Chillwater apparel is now available at their brick and mortar location on 134 South Main St.
Still in its infancy, Chillwater Apparel has come about in a big way. Founder Cassie Taylor's initial intention was to become a favorite among Stillwater fans, locals and the lifestyle we all tend to live. However, the designs were always kept regionally neutral so the appeal could be felt throughout the country. An eye on the prize has paid off. The popularity of Chillwater shirts has hit the college crowd. For them, any time you mix comfort colors with cheerful aquatic sport design, the shirts are bound to fly off the shelves.
Coney Island South Washington St.
Coney Island is the go to spot for late night gatherings on the Strip…and a great t-shirt. This hot-dog stop has been a part of Stillwater history since 1969.
Coney's current logo designer Sean Higgins takes obvious pride in the message their brand spells out. The logo features a varsity font to address the main patronage of college students and the hot dog figure represents a social, friendly atmosphere where memories are created. And it's true 70's OSU alums always fondly recall their days on the Strip where Coney was a necessary stop.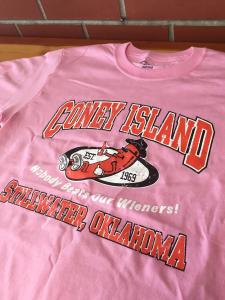 This go-to spot has not lost that momentum in all its years as it's still open often until 2:00 a.m. to cater the bar-goer's late night cravings. We have all witnessed this line consistently extend out the door in an attempt to get their hands on the ultimate in hot dogs – The Crawdaddy. If you've never tasted one, go now.
Coney Island's memorable slogan is a testament to its representation of this fun-loving community – "Nobody Beats our Weiners!"  Coney's feather in its cap is that alumni religiously stop in when they're here to share their favorite memories, which draws back to the brand's emphasis on creating that social-friendly atmosphere so valued by the students they serve.
Memories last a lifetime and they genuinely want to be a pleasant part of yours, directing us to "make memories with those around you."
Check out past issues of Stillwater Living Magazine and Visit Stillwater's "How to be a Tourist in Your Own Community" series.