Enjoy the fresh air as you dine on some of Stillwater's favorite eats. Whether you prefer the bright lights and exciting music of Mexico Joe's or the laid-back atmosphere of Granny's Kitchen, Stillwater has a patio you are sure to love!  
Head to Stillwater's hole-in-the-wall cantina for an outdoor atmosphere you are sure to love. Dig into their sizzling hot fajitas and freshly made tortillas as you enjoy music and lights on their outdoor patio. Top off the perfect night with a hand-crafted margarita or cocktail.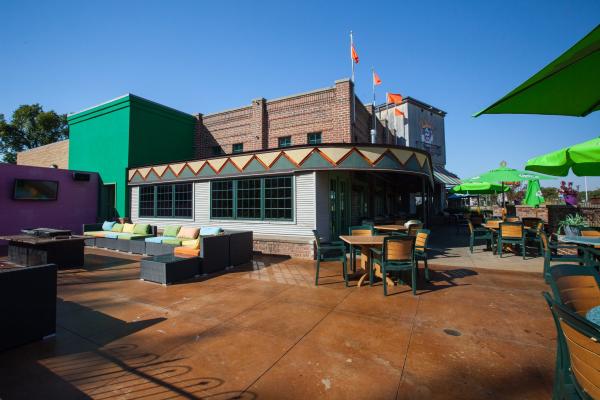 Stillwater's Jumpin' Little Juke Joint has the perfect roof-top patio to take in the views of OSU's campus. Order up the famous sweet peppered bacon cheese fries, a seasonal shake, and your favorite burger as you watch an OSU game on the big screens, or enjoy a cozy evening around the heaters! 
Bad Brad's serves up traditional, wood-smoked meats every day of the week! Don't be afraid to get your hands dirty as you devour the delicious barbecue out on the patio. The smokers are located just north of the outdoor dining area, so your taste buds will be satisfied combined with the aroma. Stop by on Friday nights for live music to add more atmosphere to your dinner. 
Start your morning with a hot cup of coffee and a made-from-scratch cinnamon roll at Granny's Kitchen! Take in the sights and sounds of Downtown Stillwater as you enjoy a homemade breakfast on their patio. No breakfast at Granny's is complete without sharing a mimosa tower with friends. Don't forget to come back at lunchtime!
The brand-new, covered patio at Red Rock Bakery & Deli allows you to enjoy breakfast, lunch, or dinner, whether the sun is shining or the rain is falling outside! A fresh chopped salad, gourmet macaroni and cheese, and hand-crafted deli sandwiches taste even better in the warmer air under the twinkling lights.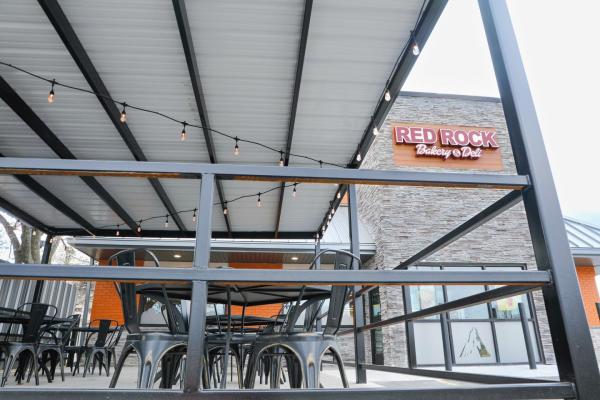 The State Room & The Ranchers Club inside The Atherton Hotel at OSU
Elevate your dining experience with a five-star meal from the Rancher's Club or appetizers and creative cocktails from the State Room. Located on the Oklahoma State University campus, the Rancher's Club offers high-end dishes and desserts in an atmosphere any cowboy can appreciate. The State Room offers a combination of relaxation and sophistication, serving up world-class wines, artisan beers, and an upscale twist on traditional bar classics. Take this dining experience outside and enjoy the views of the library lawn as you delight in perfectly cooked steak or specialty drinks. Plan a weekend getaway and stay in the famous Atherton Hotel!
El Tapatio serves up authentic Mexican cuisine using recipes passed down over several generations. Savor their tasty street tacos and frozen margaritas while you soak in the warmer weather on the spacious patio! Catch some sunrays during lunch, or enjoy an evening under the lights. 
For over 50 years Coney Island has been serving Stillwater visitors and residents. Known for its iconic hot dogs, juicy burgers, and crispy tater tots, Coney Island offers a fun and exciting atmosphere inside and out. Grab a drink and enjoy some good eats as you sit on their rooftop patio overlooking The Strip, or out on their family-friendly back lawn while playing yard games!