Stillwater, Oklahoma will forever hold a special place in my heart. To be honest I didn't have many expectations when I headed south from Nebraska. I knew that it was going to be a fun week and that I would get to hear a ton of music but other than that I wasn't exactly sure what I was getting myself into.
I was fortunate enough to get to attend this year's Bob Childers' Gypsy Café, as well as the Calf Fry Festival. Being a lifelong Red Dirt music fan, I have always wanted to make the trip to Stillwater. It was a dream come true when I was able to get media credentials to cover both of the events for my radio show, Rebel Radio. I knew that I was going to have fun, but I ended up having way more fun than I ever could of imagined.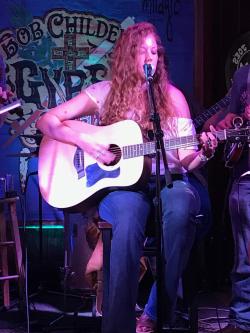 The Gyspy Café and the Calf Fry gave me a whole new appreciation for Red Dirt music. Getting to be in the town where it all started was very surreal. I couldn't believe the amount of music that was around the area. Stillwater and the surrounding areas are home to many bands and singer-songwriters. The Bob Childers' Gypsy Café showcased these sing-songwriters and Oklahoma music. The amount of talent the area has continues to blow my mind. All of these people are incredibly nice as well. In visiting with some of these musicians, I found that they are down to Earth and humble. In the music industry, that is sometimes hard to find, but yet it seemed like all of the Oklahoma artists I met were great people with extraordinary talent. If you are any kind of music fan in general, especially Red Dirt music, you need to go see the Bob Childers' Gypsy Café event for yourself. Looking back on it, the event was one of the best music events that I have ever attended. It is also for a great cause. The Red Dirt Relief Fund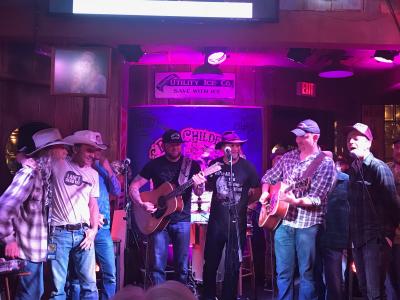 puts on the Gypsy Café and it acts as their biggest fundraiser. Red Dirt Relief Fund is a non-profit organization that offers a safety net of critical assistance to Oklahoma musicians. In a career where healthcare is sometimes hard to come by, the Red Dirt Relief Fund has helped many Red Dirt musicians in times of need. They are so important to the community of musicians and it is truly amazing how much money they raise every year.
The Calf Fry was also a fantastic experience. Being surrounded by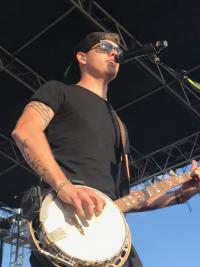 10,000 other people to experience a three day country music festival was amazing. I couldn't believe how many big names the festival brought. The music was great, the people were great, and the whole Calf Fry experience was unlike anything I have ever been part of. I also have to complement the entire staff. The Calf Fry Festival was probably the smoothest ran festival that I have been to. Everything was always on time and there were no tech problems. To be able to run a festival this smoothly for three days takes an experienced staff who care about what they do. It's safe to say I was very impressed with every aspect of the Calf Fry. If you are looking for a country music festival to go to, I can't recommend Calf Fry enough. It is worth the drive from wherever you are from.
Stillwater itself is a fun town with no shortage of things to do. I was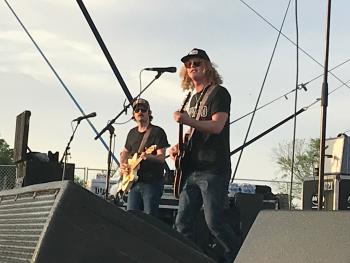 constantly finding things to do and see. There is also a reason that Stillwater was voted "friendliest college town." The people in Stillwater were incredibly nice and always willing to help. In fact, I really felt at home there..
The restaurants in Stillwater are also a huge talking point. Whether you are grabbing some cheese fries at Eskimo Joe's, or a huge omelet at Granny's Kitchen, it's not hard to find great food in the town! I also have to talk about Aspen Coffee Company. The coffee and service there are amazing. I found myself there every morning having a cup of joe and compiling notes and audio segments from the night before. I was considered a "regular" by the end of the week!
Overall, my experience in Stillwater was incredible. Sitting here writing this post, reliving the memories makes me want to be back. It was a perfect week and I hope to come back. If you are looking to go somewhere for a week in May, I cannot recommend heading to Stillwater for Calf Fry week enough. There is something for everyone to enjoy.
A big thanks to Visit Stillwater, the Red Dirt Relief Fund and everyone who made this trip possible for me. I had an amazing time and I hope to come back to Stillwater someday!
Check out more of Jeremy Davis' thoughts on Bob Childers' Gypsy Cafe over on the Rebel Radio Blog!