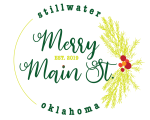 Merry Main St. is Stillwater's newest holiday attraction scheduled to begin later this week and be open to residents and visitors alike the four weekends between Thanksgiving and Christmas in the heart of downtown Stillwater.
Activities taking place on Block 34 and along Main Street will include four specialty retail shops in climate-controlled geodesic dome structures, carriage rides, food trucks, Christmas tree sales, music, and more. A larger hospitality geodesic dome will also be featured as a furniture retail dome during the day and host a rotating hospitality event each Friday and Saturday night from 5:00 – 9:00 p.m.
Iron Monk Brewing Company will host a beer garden and a decorated Airstream area will serve as a gathering area with seating and games. Saturday afternoons will feature family activities such as S'mores with Firemen, Cookie with Cops, and painting with the Prairie Arts Center. Window murals and displays will provide a fun atmosphere while browsing the downtown retail shops.
Merry Main St. also includes the traditional Stillwater events such as the Tree Lighting Celebration at Chris Salmon Plaza on Sunday, December 1, Christmas Parade of Lights on Thursday, December 5, and Breakfast with Santa on Saturday, December 7.
Shannon Williams, co-owner of Greige Goods in downtown Stillwater, and City Councilor Alane Zannotti, have partnered as the Merry Main St. coordinators. To help you get in the holiday spirit, they have designed a T-shirt that is available for $30 and can be purchased at Greige Goods.
Vendors participating this year are:
November 29 – December 1
The Vinedresser Boutique/Bud +Bloom Clothing Co. – Mangum 
Woodsman Trading Company – The Village
Twisted Horn Boutique – Stillwater
Bella Marie's Bakery – Stillwater
December 5-8
Honey & Co. – Hennessey
Varnish & Velvet – Morrison
Oklahoma State University Store – Stillwater
Butter Bean Boutique – Stillwater
December 12-15
Dear Brit & C2G – Stillwater
Pic/Print/Press - Stillwater
The Round House Bakery/Uprooted Designs/Wild Honey Wedding – Perkins
Hey Sister Boutique – Perkins
December 19-22
Polished Prairie Boutique – Stillwater
Oklamerica – Stillwater
Discovery Toys – Stillwater
SeneGence/LipSense & Prairie Arts Center Pottery – Stillwater
For more information about Merry Main Street, go to www.merrymainstswo.org.
For the most current and up-to-date community-wide holiday information, go to VisitStillwaterOK.org, "Like" Visit Stillwater on Facebook, and follow @VisitStillwater on Instagram and Twitter.
Cristy Morrison, President and CEO, represents Visit Stillwater, 2617 W. 6th Avenue, Stillwater, OK  74074.  She can be reached at Cristy@VisitStillwater.org or by calling 405-743-3697.