Town & Gown Theatre presents its first video production, "Butterflies Are Free" which opens Wednesday, Nov. 25.
Young Don Baker, hero of his mother's children's book series, "Donny Dark" has been blind since birth, his overprotective mother following his every move. Don finally decides to tak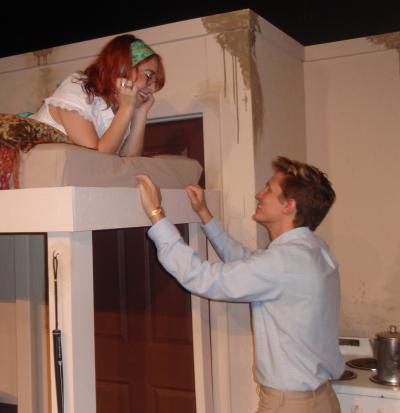 e his own apartment in Manhattan and pursue his songwriting ambitions. When she meets his free-spirited neighbor, sexy actress Jill, Mrs. Baker's controlling instincts go into overdrive with hilariously touching results.
"Butterflies Are Free," written by Leonard Gershe, opened on Broadway in 1969, and its successful run led to a popular feature film in 1972. Gershe's inspiration for the story was based on the life and accomplishments of Harold Krents, a young blind man who didn't let his handicap hold him back from graduating Harvard and Oxford University and becoming a lawyer. Krents is also known for his efforts to protect the legal rights of handicapped persons.
"Butterflies Are Free" is described as a sensitive, touching comedy that touches on subjects everyone experiences in their lives – growing up, letting go, and gaining your wings.
New York Daily News wrote, "A lovely play. It is funny when it means to be, sentimental when it is so inclined, and heartwarming." The New York Post describes it as "A charming play...humorous, winning and quietly moving."
The two lead roles are portrayed by Town and Gown veterans Timothy Cole as Don and Sydney Weiser as Jill. Charissa Prchal portrays Don's mother, Mrs. Baker, and Peter Hounslow rounds out the small cast as Ralph Austin.
"Though we have a small cast, our actors all provide strong performances," director Cindy Sheets said. "Each actor is able to find and accurately project their character's strengths, weaknesses, and small eccentricities that make them both interesting and human."
Another Town & Gown veteran, Kimberly Harrison, lends her experience backstage, leading as the production's stage manager.
Sheets said, "Our costumer, Mary Selk, has really brought 1969 alive with her creative touch, and Bunny Stanphill is giving our hairstyles just the right look. We've had fun complementing our characters personalities with their costumes and coiffures.
"This show is funny, touching, and a delight to watch."
"Butterflies Are Free" was originally scheduled to be performed as part of Town & Gown's 69th season, with performances to open in April.
Sheets said, "We were well into rehearsals in March when the COVID pandemic shut down our theatre. The production was postponed indefinitely, and eventually our board decided to include it in our 70th season this fall.
"Just like countless production companies all over the world, we had to adjust a few things, including the way we are presenting the show."
"Butterflies Are Free" will be Town & Gown's first video-only performance. Audiences will be able to watch it in the comfort and safety of their own homes beginning Nov. 25.
Tickets will go on sale Monday, Nov. 23. For ticket information, visit townandgown.org or call (405) 372-9122.