TIDBITS OF AMERICA'S FRIENDLIEST
COLLEGE TOWN
CHRISTMAS DAY: 1890
Before statehood, Stillwater pioneers sought to embrace education as a way of life. On Christmas Day, 1890, Oklahoma State University was established. OSU is the only university with a statewide presence in all 77 Oklahoma counties through the Oklahoma Cooperative Extension Service. Not only does OSU's presence improve the lives of Stillwater residents and visitors, their commitment to high-quality teaching, research, and outreach impacts our state and nation.
Walk through a timeline of OSU's 125 years of excellence. 
PISTOL PETE EMBODIES THE COWBOY SPIRIT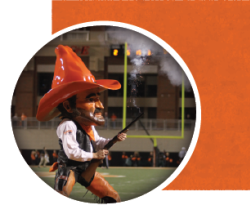 The history of Oklahoma State University's mascot, Pistol Pete, goes back more than a century.  In fact, he is a legend that embodies the Cowboy spirit infused in the Stillwater culture. Pistol Pete originated from an actual person named Frank B. Eaton.  He was given the nickname Pistol Pete after beating out many competitors in a marksmanship contest.
HOME TO THE SECOND PIZZERIA IN OKLAHOMA
The Orig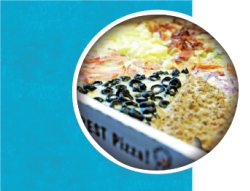 inal Hideaway Pizza was founded in 1957 in a small brick house near the OSU campus and was only the second pizzeria in Oklahoma. In the 60s and 70s, Hideaway Pizza delivered pizza in a fleet of Volkswagen Bugs.  Hideaway Pizza was recognized as an Oklahoma Living Magazine Best of the Best 2014 Winner for the best pizza by voters. Connect with The Original Hideaway Pizza on their Facebook page and if you ask us, order the Pizza of the Gods and their Famous Fried Mushrooms!
WORLD FAMOUS CHEESE FRIES
Stillwater is home to many pioneers of the entrepreneurial spirit and none rings more true than the history and legacy of Stillwater's iconic sports bar and restaurant, Eskimo Joe's.  In 1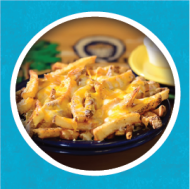 975, Oklahoma State University graduate, Stan Clark, opened up a bar known for ice cold beer, the hottest tunes, and t-shirts sporting a smiling Eskimo and his dog.  In 1984, Eskimo Joe's became a full-service restaurant.  Today, Eskimo Joe's serves over 7,000 plates of their famous cheese fries a month and their collectible t-shirts are some of the most recognized in the world.  Eskimo Joe's offers weekly kid's nights, live music and drink specials.  Check out their monthly calendar. PS-Make sure to add Eskimo Joe's Sweet Peppered Bacon to your cheese fries.  Your mind will be blown! In fact, blogger, Karen Dawkins, with Family Travels on A Budget had her first experience with Sweet Peppered Bacon Cheese Fries in 2015 and she agrees!
AN ICONIC OKLAHOMA HONKY-TONK AND FESTIVAL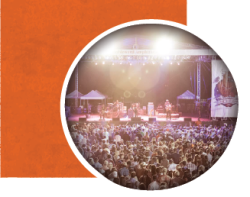 Stillwater's iconic dancehall and concert venue, Tumbleweed, opened its doors in 1981 when John Travolta's "Urban Cowboy" craze was influencing country music across the nation.  It has been nominated for Nightclub of the Year from the Country Music Association twice and is home to the Tumbleweed's Annual Calf Fry, a three-day food and music festival with 35,000 in attendance in 2015.  Each year, Calf Fry has a nationally-recognized musical line-up and thousands of pounds of calf fries in May. Be the first to know about musical lineups, ticket giveaways and event announcements on our Live Music Calendar of Events as well as the Calf Fry Facebook Page!