Dancing Turtle Art Gathering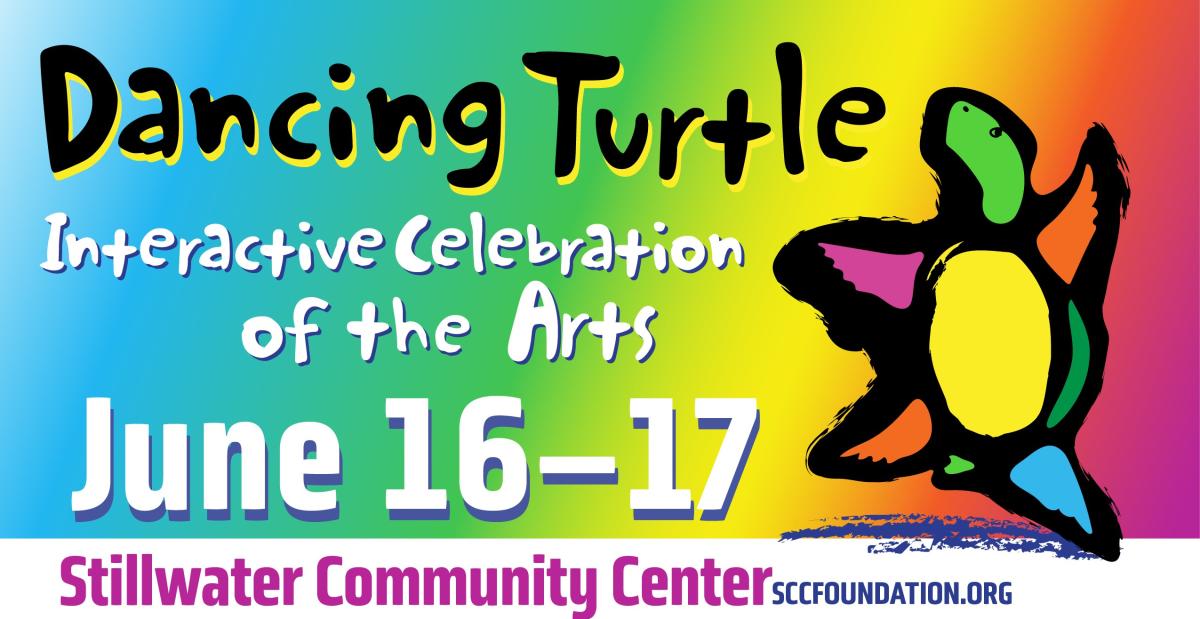 Whether your passion is the visual arts, music, dancing, theater, film,
or industrial arts, this festival has something for you!
The Dancing Turtle is a gathering that honors and highlights regional and global cultures' breadth, depth, and history. It is a public gathering for people from all walks of life and ages. It is a gathering to inspire community involvement. 

Music Festival
Free & Open to the Public

Food Trucks & Vendors

Two Outdoor Stages

Acoustic Stage is in the North Breezeway of the Stillwater Community Center

Main Stage is at the corner of 8th & Duncan
June 16th
June 17th
Time
Artist
Time
Artist
Main Stage
Main Stage
12 - 1 pm
Ray & The High Rollers
11 am - 12 pm
String of Passion
1 - 2 pm
DaProphet
12 - 1 pm
Mark Christian
2 - 3 pm
Functional Polly
1 - 2 pm
Peppermint
3 - 3:30 pm
Dancing Eagles Native American Song & Dance
2 - 3 pm
Conner Helm
3:30 - 6 pm
Buffalo Jones & The Heard
3 - 4 pm
Code Shirley
 
 
4 pm
Rock Academy Live Performance
 
 
4:30 pm
Rock Academy Awards
 
 
6 - 8 pm
Charlie Red & Luna Voodoo
 
Acoustic Stage
Acoustic Stage
12 - 12:30 pm
Mark Christian
10 - 11 am
Mark Christian
12:30 - 1 pm
Ruth Walker
11 am - 12 pm
Kicked In
1 - 1:30 pm
Cary Younge
12 - 12:30 pm
Emma Rose
1:30 - 2 pm
Daniel Burgess
12:30 - 1:30 pm
Buffalo Rogers
2 - 2:30 pm
Darren Sormont
1:30 - 2 pm
Noah Taylor
2:30 - 3 pm
Stephen Stauffer
2 - 3 pm
Powwow Singing Workshop
3 - 4 pm
MarknRW
3 pm
Native American Singers/Songwriters Ben Yahola, Nokose Foley, & Cary Younge
4 - 5 pm
Kicked In
 
 
5 - 5:30 pm
Grae Taylor
 
 
5:30 pm
Jam - Open Mic
 
 
Turtle Crawl - The Strip
June 16, 5:30 - 9:30 pm
Live Music at Various Venues on Washington Street 
Car Display
Free & Open to the Public

June 17, 10 am - 5 pm

Stillwater Community Center, 8th & Duncan & Block 34 8th and Husband

Customs, Restorations, Rat Rods, and more

Special guest speaker, 11 am: David Miller, Owner/Manager - Unique Customs and Restorations - Winfrey Houston Community Center Theater
Visual Arts Festival
Free & Open to the Public

June 16, 12 - 6 pm

June 17, 10 am - 7:30 pm

Stillwater Community Center, 8th & Duncan

Children's Programs & Artist Demonstrations

$1,000s in prize money for Native American, African American, and non-genre-specific art categories
Industrial Arts Festival with Habitat for Humanity
Free & Open to the Public

June 17, 10 am - 5 pm

Stillwater Community Center, 8th & Duncan

Interactive welding & other simulators, interactive learning systems - "Water Piping" and more, Manufacturing Robotics Demonstration, and 3D component production systems
 
"Caffeinated Theatre" Competition & Workshops
Free Team Registration

Team Check-In: June 16, 11 am

Team Presentation: June 17, 12:30 pm

Stillwater History Museum at the Sheerar

Competition: 24 Hours to put together and perform a one-act play from "scratch".

Register HERE
"Cut it Out" Film Editing Competition & Workshops
$100 Team Registration

Team Check-In: June 16, 12 - 12:30 pm

Projects Due: June 17, 12 pm

Projects Presented: June 17, 2 - 4 pm

Stillwater Community Center

Competition: 24 hours to convert raw footage into a 5-10 minute short film
Dance
Community Flash Mob - Stillwater Community Center

Art Beat in the Street Latin & Swing Dancing - Downtown Stillwater

Dancing Outside the Lines - Stillwater Community Center

Mindful Movement - Stillwater Community Center
VIP Dinner
Enjoy an intimate evening with three of the world's top singer-songwriters. The evening includes fundraising to help OSU Music Industry Program students attend the Singer/Songwriter Master Class, Saturday, June 17, and OSU Music Industry Program scholarships.   

June 16, 6:30 pm

$100 Per Ticket, includes 2 drinks and an impressive culinary experience

Stillwater Community Center, Lowry Activity Center