Juneteenth Community Celebration
June 17, 2023, 11:00 am - 1:00 pm
Southern Woods Park
Here is an invitation to all members of the community to attend the Juneteenth Celebration in Stillwater. The event will take place from 11 a.m. to 1 p.m. on Saturday at Southern Woods Park, located on Twelfth Street. The Juneteenth Celebration has been organized through the collaborative efforts of Stillwater Community United, Mt. Zion Baptist Church, Visit Stillwater, the City of Stillwater, the Stillwater Public Library, the Stillwater Police Department, and the Stillwater Fire Department.
What is Juneteenth? 
Juneteenth, short for "June Nineteenth," is the celebration of the day in 1865 when enslaved Americans in Galveston, Texas finally received word that they were free and officially recognized as citizens. Black Americans began commemorating Juneteenth with celebrations across the country. In 2021, the US government declared Juneteenth an official holiday. Learn more about the history at www.history.com/news/what-is-juneteenth.
Event Information: 
Free entertainment and activities will be available, along with prizes, crafts, bouncy houses, games, music, food trucks, and more.
Participants are encouraged to bring a chair or blanket.
Mayor Will Joyce will welcome participants to the event, a history of Juneteenth will be read and Mt. Zion Baptist Church's choir and others will provide music.
Click the flyer to download and spread the word: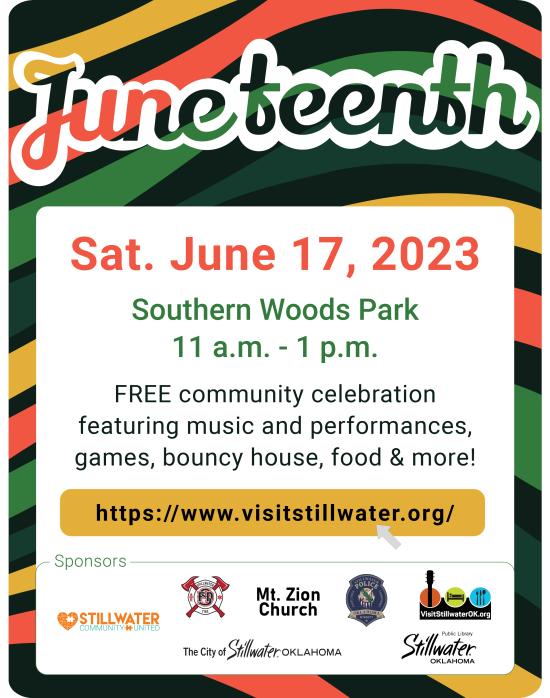 ---