Reindeer Visits
Thanks to Payne County Economic Development Authority's generous sponsorship, Santa's reindeer are planning to make the long flight from the North Pole so visitors to Stillwater's Winter Wonderland will have a chance to interact with and learn about reindeer everyday, free of charge! You may even be able to grab a selfie with Rudolph!  
Nick Ledbetter, Reindeer Club of Oklahoma owner, will have Santa's reindeer on display inside a tented area for reindeer interactions and photos. Guests will be able to ask questions about what it takes to be a reindeer farmer and participate in a variety of reindeer inspired games! 
Be sure to check out our interview with Ledbetter in which we got the scoop on everything from the reindeer's unique antlers, to what they eat, and how they fly! All of his insights can be found in our October article in Stillwater Living Magazine. 
"Come witness the spirit of Christmas embodied in Santa's very own reindeer. It is a truly magical experience for you and your family" - Nick Ledbetter
Sponsored By:

Reindeer Hours
Dec. 1st - Dec. 21st
Monday: 3:00pm - 9:00pm
Tuesday: 3:00pm - 9:00pm
Wednesday: 3:00pm - 9:00pm
Thursday: 3:00pm - 9:00pm
Friday: 3:00pm - 10:00pm
Saturday: 12:00pm - 10:00pm
Sunday: 12:00pm - 9:00pm
Dec. 22nd - Jan. 1st
Everyday: 12:00pm - 10:00pm
Special Hours
Christmas Eve: 12pm - 5pm
Christmas: 12pm - 10pm
New Year's Eve: 12pm - 10pm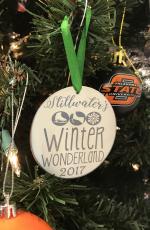 Don't miss out on the 2018 Winter Wonderland commemorative ornament! 
Purchase yours today to celebrate memories made on the ice! Find them at the ice rink and Visit Stillwater.