Roasted Red Bell Pepper Hummus and fresh pita bread followed by BBQ Glazed Salmon, sauteed spinach and mashed potatoes made for a lunch to remember...and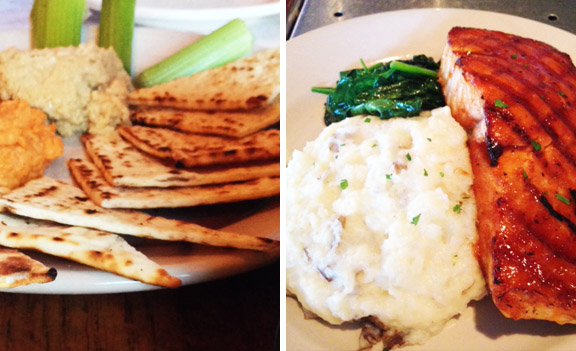 reorder at the next possible chance I get!   Alongside great company, the friendliest and most knowledgeable staff and never ending fresh baked bread, 1-2pm understandably won best hour of the day.  The great news...it all happened right here in Stillwater.  Joseppi's Italian Kitchen had a tough act to follow after its famous counterparts, Eskimo Joe's and Mexico Joe's in 2000, but with superb cuisine and such a vibrant atmosphere,  Joseppi's, hands down, lives up to the Joe's standard of excellence.  
The inspiration for Joseppi's first began as, "filling a niche in Stillwater," says owner Stan Clark.  His passion for architectural antiques and eye for creating truly unique environments can be seen in all the Joe's locations.  Joseppi's is no exception.  Even as you walk in, the old world feel inspired from the Mediterranean creates a warm, welcoming greeting.  In fact, the ceiling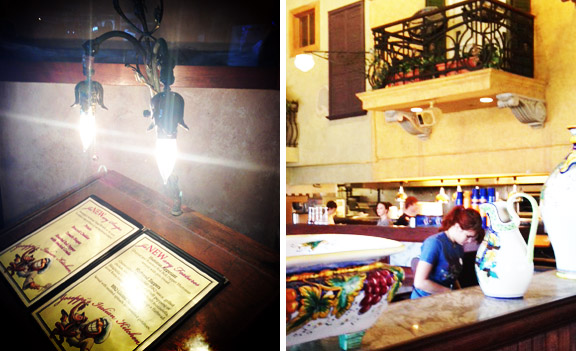 height was decided around an over thirteen foot entry surround Clark reclaimed from a school building in Texas in order to create the feel and environment he imagined.  It's that kind of attention to detail that creates not just a place to eat a good meal and enjoy drinks, but a full dining experience. 
Care and collaboration for details is instilled in the entire Joseppi's team.  From planning and promoting the menu specials, creating unique drinks served at the bar, or baking the perfect loaf of bread from scratch, the team is dedicated and passionate about carrying out the details that make Joseppi's such a top notch establishment in Stillwater. 
Their menu is mouth-watering and extensive, with everything from hand-tossed brick oven pizzas, salads, pastas, fresh from scratch focaccia bread, sandwiches, steaks, seafood, tempting desserts and full bar.  If you want to get a head start on deciding what to order, simply visit their website for their menu, specials and much more.
Planning to experience Joseppi's in 2014 needs to be at the top of your list! The food, people and atmosphere will keep you coming back for more, that's a fact. 
Hours:
11 am - 9:30 pm, Mon-Thu
11 am - 10:30 pm, Fri-Sat
11 am - 9 pm, Sun
Phone:  405-624-8037
Located at 223 E. Hall of Fame, Stillwater, Oklahoma 74074