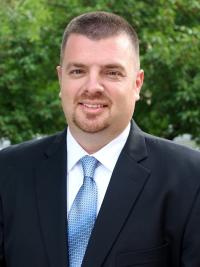 (STILLWATER, Oklahoma / Sept. 26, 2017) – After nearly 15 years of law enforcement service and seven years of experience in aviation and management education, Paul Priegel is eager to channel his passions for serving Stillwater and aviation as Stillwater Regional Airport's assistant director.
 
"This is truly a tremendous opportunity," Priegel said. "Our airport's growth and progress has only begun and to come in at such a pivotal time and grow along with it is very exciting."
 
He joins the airport with more than 11 years served with the Stillwater Police Department. He joined the department in 2006 as police officer after previously working for the Oklahoma Department of Corrections, and rose to the rank of police sergeant in 2012.
 
During his career with the SPD, Priegel served as a patrol supervisor and remained heavily involved in community and extracurricular activities within the department, including the coordination of the department's Community Outreach Program and serving as president of Crisis Negotiators of Oklahoma.
 
His experience with aviation is also extensive; he was the airport's law enforcement liaison as it prepared for the new regulations and protocols that were required for commercial air service and earned a master's degree in Aviation and Space from Oklahoma State University in 2012.
 
"Although I took it for the management and leadership focus to develop my law enforcement profession, this degree inadvertently led me to teaching aviation classes at OSU," Priegel said. "I am going on my seventh year of teaching, with courses ranging from basic aviation accident investigation to management and security areas concerning security countermeasures, networking and legal and regulations issues."
 
He added that he will miss serving with the professional group of men and women at the police department and is grateful for the professional development and opportunities he was afforded through the organization.
 
"The airport administration team and myself are very excited to have Paul onboard," Airport Director Gary Johnson said. "With the airport's addition of commercial airline services and the growth we are embracing, Paul adds much needed support and balance to our team."
 
Priegel's office is at Stillwater Regional Airport at 2020-1 W. Airport Road. His email is ppriegel@stillwater.org.
 
###