(Stillwater, OK) — The City of Stillwater and Stillwater Regional Airport celebrated as American Airlines began servicing the route between DFW and Stillwater with larger planes that provide more options for travelers. The upgrade to Stillwater's service was announced in September. 
"This is a step that will open more opportunities," Airport Director Paul Priegel said. "This is proof that if we continue to use our service, they will continue to grow with us."
The 65-seat Bombardier CRJ-700 aircraft replaces the 50-seat Embraer ERJ-145 that previously carried passengers to and from Stillwater. The larger plane doesn't just offer more seating; it offers more amenities.
Passengers will now enjoy in-flight entertainment with Wi-Fi and the American Airlines entertainment app. They also have the opportunity to upgrade to Business Class for more leg room. 
The airport has further upgraded the experience for travelers by adding a complimentary coffee bar in the departure lounge, in addition to the short lines; quick security screening; free, convenient parking and free Wi-Fi they have always enjoyed. 
American Airlines launched commercial passenger air service at Stillwater Regional Airport in August, 2016. It was a dream that airport and city leaders had worked - with the help and support of Congressional representatives, local legislators and the FAA - to make a reality for many years.
"I think this is evidence of the hard work that we've put in at the airport to ensure we have the terminal and we have runways that support bigger planes," Deputy City Manager Melissa Reames said. "And I think in some ways, it's a vote of confidence from American Airlines. They've stuck with us through the pandemic … we work together, they're a great partner to have at our airport."
Known by the IATA location code SWO, Stillwater's airport is the fourth busiest in Oklahoma and one of only four to offer commercial air service. With travel rebounding, Stillwater is on track in 2022 to surpass its previous peak in 2019 of 54,834 commercial passengers.
In addition to its commercial service, SWO serves numerous private aircraft and is home to two flight schools. Oklahoma State University's Ray and Linda Booker Flight Center, home of the Flying Aggies, opened in spring of 2022 and operates at the airport with about 350 students and more than 40 aircraft.
SWO continues to improve its facilities with $57 million in capital projects planned from 2017 to 2024. Future improvements include an expanded commercial terminal and new air traffic control tower.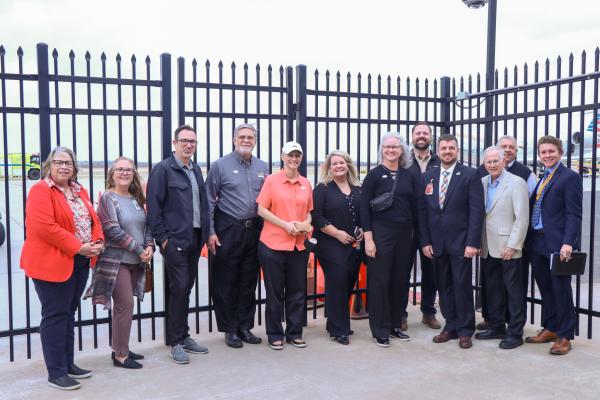 City of Stillwater and Stillwater Regional Airport staff were joined by members of the City Council and other elected officials Thursday as they celebrated the first flight of a new, larger aircraft into Stillwater.
(Left to Right) Deputy City Manager Melissa Reames, Grants Manager Shelly Crynes, Chief Performance Innovation Officer Brady Moore, City Councilor Kevin Clark, City Councilor Christy Hawkins, Visit Stillwater CEO Cristy Morrison, Rep. Trish Ranson, Mayor Will Joyce, Airport Director Paul Priegel, Sen. Tom Dugger, former airport director Gary Johnson, Deputy Airport Director Foster Becquet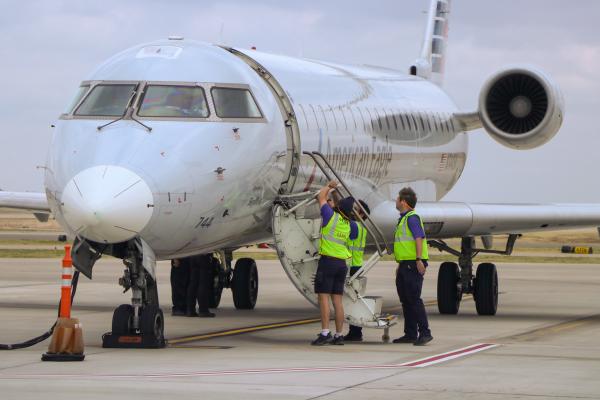 The Envoy ground crew at Stillwater Regional Airport prepared for passengers to disembark after flying in Thursday afternoon on the larger plane that will now fly to and from Stillwater.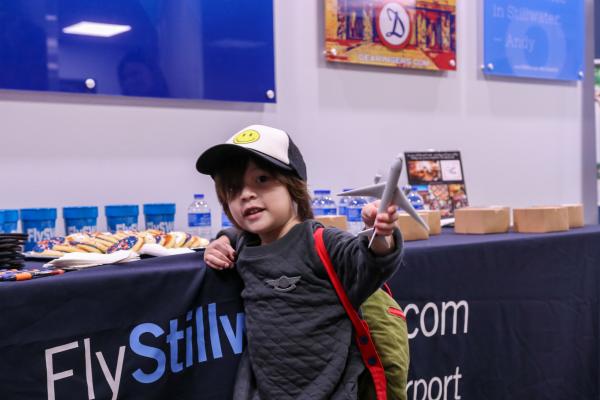 A young passenger enjoyed the celebration while he waited to board his Thursday afternoon flight on the new larger plane serving Stillwater Regional Airport.