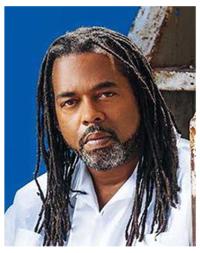 Quraysh Ali Lansana will provide a poetry reading on Tue., Feb. 18, at 6:30 pm at Modella Gallery, 721 S. Main, Stillwater. 
Born in Enid, Oklahoma, Lansana earned his MFA from New York University, and a B.A. in African American Studies from Chicago State University where he was mentored by the late Gwendolyn Brooks. With more than 20 books to his credit as author or editor, Lansana has been a teaching artist and curriculum developer for over a decade and has led workshops in prisons, public schools, and universities in over 30 states. Currently, Lansana is on faculty in the Creative Writing Program of the School of the Art Institute in Chicago and the Red Earth MFA Creative Writing Program at Oklahoma City University. Lansana has a background in broadcast journalism, and his poetry video collaboration with Kurt Heintz won the first ever Image Union/Bob Award from WTTW-TV (PBS). He is the recipient of several awards, including the 2006 Securing the Future Award from ETA Creative Arts Foundation; the 2000 Poet of the Year Award, presented by Chicago's Black Book Fair; the 1999 Henry Blakely Award, presented by Gwendolyn Brooks; and the 1999 Wallace W. Douglas Distinguished Service Award, presented by Young Chicago Authors, Inc. 
Modella Gallery is a non-profit art gallery dedicated to bringing contemporary arts to Stillwater, Oklahoma. Modella Gallery is located at 721 South Main Street in historic downtown Stillwater, OK. Hours are Thursday 5-8pm, Friday 5-8pm; Saturday 11-5pm, and Sunday 11-3pm. For further information, please contact the gallery at (405) 880-4434 or visit modellaartgallery.org.