The Oklahoma Mission of Mercy, or OkMOM, is a two-day, free dental clinic offering treatment to patients that are uninsured, under-insured or would normally not have access to dental care. 
For the first time, OkMOM will be hosted in Stillwater and take place at the Payne County Expo Center Friday and Saturday, February 7-8, 2020.
The annual event is produced by the Oklahoma Dental Association, Oklahoma Dental Foundation, and the Delta Dental of Oklahoma Foundation. Dentists and health care providers from Stillwater, and around the state, will be volunteering their time to improve dental health, and the quality of life of fellow Oklahomans.
At the event, patients will undergo a dental screening to identify their needs and determine a treatment plan. Each patient is then routed to the appropriate areas of the clinic: oral surgery, extractions, restorations, pediatrics and hygiene.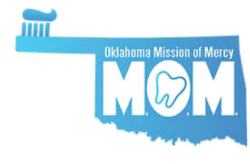 Inside waiting rooms will open Thursday, February 6 at 8:00 p.m., and then open again at 8:00 p.m. Friday night, February 8. Health care professionals will begin seeing patients at 6:00 a.m. on Friday and Saturday mornings. Treatment is on a first-come, first-served basis. Doors will close each day when capacity is reached. (Estimated at 1,000 patients a day.) 
There is a tremendous need for volunteers to provide assistance for an event of this magnitude from set-up on Thursday, February 6 to tear-down on Saturday, February 8. Volunteer shifts occur throughout the day and encompass varying responsibilities that will provide compassionate care to those in need.
Patients will receive free dental screenings and care with no need to provide identification or insurance. All ages will be seen; however, there may be limitations to the types of services offered if age-restrictive. Parents or guardians may stay with minor children throughout the entire treatment. It is recommended patients bring a list of current medications and a one-day supply of all medications.
Patients should expect to spend the majority of the day at the event. By the time one waits in line, has a medical screening, dental screening, and treatment completed, it could be 6-8 hours (or longer). OkMOM will provide breakfast and lunch for patients at no cost.
The Payne County Expo Center is happy to host the 11th Annual OkMOM next month. Since its inception, the Oklahoma Mission of Mercy has treated 16,138 patients and donated more than $12 million in dental services. 
For more information about OKMOM, contact Abby Sholar at okmom@okda.org or go to okmom.org.  
For the most current and up-to-date information in regard to the Stillwater hospitality industry, go to VisitStillwaterOK.org, "Like" Visit Stillwater on Facebook, and follow us on Twitter and Instagram at @VisitStillwater.  You may even win one of our online contests throughout the year.
Cristy Morrison, President and CEO, represents Visit Stillwater, 2617 W. 6th Avenue, Stillwater, OK  74074.  She can be reached at Cristy@VisitStillwater.org or by calling 405-743-3697.