(STILLWATER, Oklahoma / July 31, 2017) – One of Oklahoma State's longest-standing football series now has a title sponsor. Effective for the 2017 season, the football series between Tulsa and Oklahoma State will be named the Bank of Oklahoma Turnpike Classic.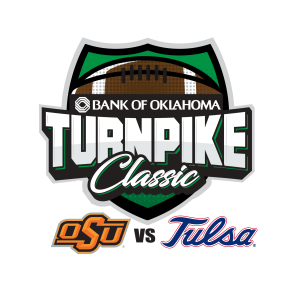 The Cowboys and Golden Hurricanes have met on the gridiron 71 times in a series that dates back to 1914. The only school that Oklahoma State has faced more often than TU is Oklahoma. 
"We're thrilled to support this historic and exciting series between two of the state's top college football programs," said Pat Piper, executive vice president of Consumer Banking Services for BOK Financial. "Bank of Oklahoma's beginnings go back to 1910 just before the start of this series so it's with particular pride that we partner on an event with such rich history and which brings together fans from across the state."
"We're thankful that the Bank of Oklahoma would partner with us for the Turnpike Series," Oklahoma State athletic director Mike Holder said. "This series has featured outstanding players and teams that have produced memorable moments for more than 100 years and it promises to provide exciting matchups for years to come."
OSU holds a 39-27-5 advantage over Tulsa and has won each of the last five meetings.